Listening Too Hard
Dear Phyllida,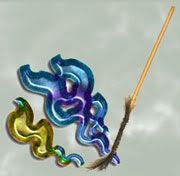 Thanks for your most interesting cards. How do you get the
gold
so good? Whenever I tried to use it, however golden it looked on the shell, it always looked only like rough brown on the paper. Is it that you have some trick with the brush that I never learned, or that gold paint is better now than when I was a boy! [...]
I'm not quite sure what you meant about "silly adventure stories without my point". If they are
silly, then having a point won't save them. But if they are good in themselves, and if by a "point" you mean some truth about the real world which which one can take
out of
the story, I'm not sure that I agree. At least, I think that
looking
for a "point" in that sense may prevent one sometimes from getting the real effect of the story in itself--like listening too hard for the words in singing which isn't meant to be listened to that way (like an anthem in a chorus). I'm not at all sure about all this, mind you: only thinking as I go along.
We have two American boys in the house at present, aged 8 and 6 1/2*. Very nice. They seem to use much longer words than English boys of that age would: not showing off, but just because they don't seem to know the short words. But they haven't as good table manners as English boys of the same sort would. [...]
yours,
C.S. Lewis
Letters to Children

(letter of Dec 18 1953)
* David and Douglas Gresham were visiting the Lewis brothers with their mother, Joy. They later became Lewis's stepsons.
__________________________
On this day:
1972 J. R. R. Tolkien was received by the Queen at Buckingham Palace to accept the honor "Commander of the Order of the British Empire".