Cranky Lewis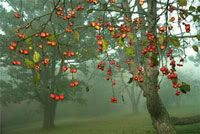 Tuesday 1 March (1927):
Woke up after a good night feeling much better. Spent the morning noting parallels between Donne, Milton and Burton.
Hudson came round from All Souls to give me the recipe for the punch, as I am entertaining the Mermaids* tonight, drat 'em. They are nothing but a drinking, guffawing cry of barbarians with hardly any taste among them, and I wish I hadn't joined them: but I don't see my way out now.
Home for lunch. D. seemed still v. tired. We all tried talking French at lunch. It was not raining when I set out for my walk, over the fields to Stowe Woods but it came on just as I turned homeward on the Crab Apple Road, and I got pelted.
Back to College and had to spend most of the time getting things ready for the sons of Belial. The evening passed off all right I think: Tourneur's
Revenger's Tragedy
was read, a rotten piece of work, whose merits, pretty small to begin with, were entirely lost in the continual cackling wh. greeted every bawdy reference (however tragic) and every mistake made by a reader. If one spent much time with these swine one would blaspheme against humour itself, as being nothing but a kind of shield with which rabble protect themselves from anything that might disturb the muddy puddle inside them.
Put the room straight after they'd gone, and sorted out clean from dirty things for the benefit of Hatton. Then to bed and slept well, and oh the beautiful silence and fresh air after all that evening!
~C.S. Lewis,

All My Road Before Me: The Diary of C.S. Lewis 1922 - 1927
* The Mermaid Club was founded in 1902 "to promote the reading and study of the Elizabethan and post-Elizabethan drama."
_____________________________
On this day:
1918 C.S. Lewis is wounded by a British shell on Mount Berenchon during the Battle of Arras.
(am I the only one who didn't realize he was wounded by friendly fire?)