Cats and Dogs
"We were talking about cats and dogs the other day and decided that both have consciences but the dog, being an honest, humble person, always has a bad one, but the cat is a Pharisee and always has a good one. When he sits and stares you out of countenance he is thanking God that he is not as these dogs, or these humans, or even as these other cats!"
--

Letters to an American Lady

, (Mary Willis Shelburne, March 21, 1955) p. 40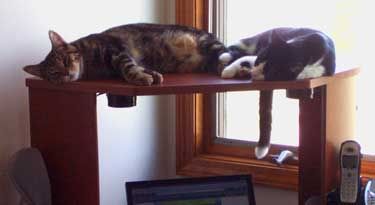 Pippin and Merry keep Scott company on the shelf where the family photos
used to be kept...
Note to visitors: Busy weekend ahead--next update will be Monday. Thanks for reading!