The Planets III
And finally, the ending for Lewis's alliterative poem, "The Planets".
[Necessity's song.] Soft breathes the air
Mild, and meadowy, as we mount further
Where rippled radiance rolls about us
Moved with music--measureless the waves'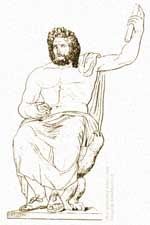 Joy and jubilee. It is

JOVE's

orbit,
Filled and festal, faster turning
With arc ampler. From the Isles of Tin
Tyrian traders, in trouble steering
Came with his cargoes; the Cornish treasure
That his ray ripens. Of wrath ended
And woes mended, of winter passed
And guilt forgiven, and good fortune
Jove is master; and of jocund revel,
Laughter of ladies. The lion-hearted,
The myriad-minded, men like the gods,
Helps and heroes, helms of nations
Just and gentle, are Jove's children,
Work his wonders. On his white forehead
Calm and kingly, no care darkens
Nor wrath wrinkles: but righteous power
And leisure and largess their loose splendours
Have wrapped around him--a rich mantle
Of ease and empire. Up far beyond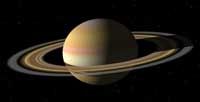 Goes

SATURN

silent in the seventh region,
The skirts of the sky. Scant grows the light,
Sickly, uncertain (the Sun's finger
Daunted with darkness). Distance hurts us,
And the vault severe of vast silence;
Where fancy fails us, and fair language,
And love leaves us, and light fails us
And Mars fails us, and the mirth of Jove
Is as tin tinkling. In tattered garment,
Weak with winters, he walks forever
A weary way, wide round the heav'n,
Stoop'd and stumbling, with staff groping,
The lord of lead. He is the last planet
Old and ugly. His eye fathers
Pale pestilence, pain of envy,
Remorse and murder. Melancholy drink
(For bane or blessing) of bitter wisdom
He pours out for his people, a perilous draught
That the lip loves not. We leave all things
To reach the rim of the round welkin,
Heaven's heritage, high and lonely.
~C.S. Lewis, "The Planets",

Poems

(1st pub. May 1935)
______________________________________
Cool link of the day:
NASA's Website* for the Cassini Spacecraft Mission/Saturn Exploration
*there is some wonderful flash content on this site--particularly the
Cassini photo essay
, and
Saturn: Journey to a Ringed World