The True Nature of Gnomes
New pictures of Roger's tour of Oxford can be found at the bottom of the page
here
. The Narnia Window at The Quarry Church is beautiful!

Paracelsus somewhere in his writings tells us
A gnome moves through earth like an arrow in the air,
At home like a fish within the seamless, foamless
Liberty of the water that yields to it everywhere.
Beguiled with pictures, I fancied in my childhood
Subterranean rivers beside glimmering wharfs,
Hammers upon anvils, pattering and yammering,
Torches and tunnels, the cities of the dwarfs;
But in perfect blackness underneath the surface,
In a silence unbroken till the planet cracks,
Their sinewy bodies through the dense continuum
Move without resistance and leave no tracks.
Gravel, marl, blue clay--all's one to travel in;
Only one obstacle can impede a gnome--
A cave or a mine-shaft. Not their very bravest
Would venture across it for a short cut home.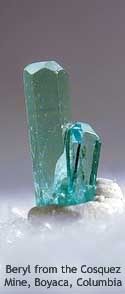 There is the unbridgeable. To a gnome the air is
utter vacuity. If he thrust out his face
Into a cavern, his face would break in splinters,
Bursting as a man would burst in interstallar space.
With toiling lungs a gnome can breath the soil in,
Rocks are like a headwind, stiff against his chest,
Chief 'midst his pleasures is the quiet leaf mould,
Like air in meadowy valleys when the wind's at rest.
Like silvan freshness are the lodes of silver,
Cold, clammy, fog-like are the leaden veins
Those of gold are prodigally sweet like roses,
Gems stab coolly like the small spring rains.
~C.S. Lewis,
Poems
, "The True Nature of Gnomes" (first pub. in
Punch
, October 14, 1946)
View more gemstone pics at
The Image.com
.