The Lamp-post, and the Wardrobe
In Narnia the Beasts lived in great peace and joy and neither the Witch nor any other enemy came to trouble that pleasant land for many hundred years. King Frank and Queen Helen and their children lived happily in Narnia and their second son became King of Archenland. The boys married nymphs and the girls married woodgods and river-gods. The lamp-post which the Witch had planted (without knowing it) shone day and night in the Narnian forest, so that the place where it grew came to be called Lantern Waste; and when, many years later, another child from our world got into Narnia, on a snowy night, she found the light still burning. And that adventure was, in a way, connected with the ones I have just been telling you. It was like this.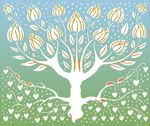 The tree which sprang from the Apple that Digory planted in the back garden, lived and grew into a fine tree. Growing in the soil of our world, far out of the sound of Aslan's voice and far from the young air of Narnia, it did not bear apples that would revive a dying woman as Digory's Mother had been revived, though it did bear apples more beautiful than any others in England, and they were extremely good for you, though not fully magical. But inside itself, in the very sap of it, the tree (so to speak) never forgot that other tree in Narnia to which it belonged. Sometimes it would move mysteriously when there was no wind blowing: I think that when this happened there were high winds in Narnia and the English tree quivered because, at that moment, the Narnia tree was rocking and swaying in a strong south-western gale. However, that might be, it was proved later that there was still magic in its wood. For when Digory was quite middle-aged (and he was a famous learned man, a Professor, and a great traveller by that time) and the Ketterleys' old house belonged to him, there was a great storm all over the south of England which blew the tree down. He couldn't bear to have it simply chopped up for firewood, so he had part of the timber made into a wardrobe, which he put in his big house in the country. And though he himself did not discover the magic properties of that wardrobe, someone else did. That was the beginning of all the comings and goings between Narnia and our world, which you can read of in other books.
~C. S. Lewis,
The Magician's Nephew
(1955)