The Miracle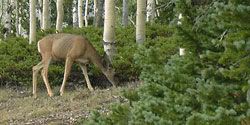 From
Jack: A Life of C.S. Lewis, by George Sayer
:
By April (1962) he had recovered sufficiently to be able to return to Cambridge. I drove him there one Monday, and for fun we stopped on the outskirts of the Duke of Bedford's great Woburn estate and entered the woods by a small gate. Almost nervously law-abiding, he was rather unwilling to do this because it was marked "Private," but I assured him that trespassing was no crime in English law, that the trespasser must simply leave when asked to and could only be sued for any damage done. We walked with some hesitation along a narrow path through a wood and suddenly found ourselves in a glade surrounded by a number of miniature deer. Jack was entranced. "You know, while I was writing the Narnia books, I never imagined anything as lovely as this, " he said. We sat on a fallen tree trunk, and Jack gazed radiantly at the elegant little animals and adored the God who had created them. "Pure white magic," he said when we had returned to the car. ...
On another occasion, I drove him back from Cambridge, again via Woburn. We went in through the same private gate, but there were no deer this time. "Well," said Jack, "as I found once before, you can't expect the same miracle twice."
~George Sayer,
Jack
(1988)
_______________________
On this day:
1933 C.S. Lewis had an idea for a new book: lost souls going on a visit to Paradise. The result was
The Great Divorce
, published in 1945.