Ballade Mystique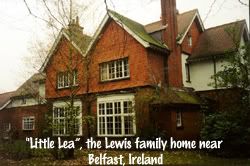 The big, red-house is bare and lone
The stony garden waste and sere
With blight of breezes ocean blown
To pinch the wakening of the year;
My kindly friends with busy cheer
My wretchedness could plainly show.
They tell me I am lonely here-
What do they know? What do they know?
They think that while the gables moan
And easements creak in winter drear
I should be piteously alone
Without the speech of comrades dear;
And friendly for my sake they fear,
It grieves them thinking of me so
While all their happy life is near-
What do they know? What do they know?
That I have seen the Dagda's* throne
In sunny lands without a tear
And found a forest all my own
To ward with magic shield and spear,
Where, through the stately towers I rear
For my desire, around me go
Immortal shapes of beauty clear:
They do not know, they do not know.
~Clive Hamilton (C.S. Lewis),
Spirits in Bondage: A Cycle of Lyrics
, 1919
____________________________
*
Dagda: An Irish-Celtic god
More about "Spirits in Bondage":
Published under the pseudonym, Clive Hamilton, Spirits in Bondage
was C. S. Lewis' first book.
Most of the poems appear to have been written between 1915 and
1918, a period during which Lewis was a student under W. T.
Kirkpatrick, a military trainee at Oxford, and a soldier serving
in the trenches of World War I. Their outlook varies from Romantic
expressions of love for the beauty and simplicity of nature to
cynical statements about the presence of evil in this world. In
a September 12, 1918 letter to his friend Arthur Greeves, Lewis
said that his book was, "mainly strung around the idea that I
mentioned to you before--that nature is wholly diabolical &
malevolent and that God, if he exists, is outside of and in
opposition to the cosmic arrangements."
~Project Gutenberg