Not a Fairy Tale, Nor a Nursery Rhyme
Lewis writes to his friend Arthur Greeves about some houseguests he has been entertaining: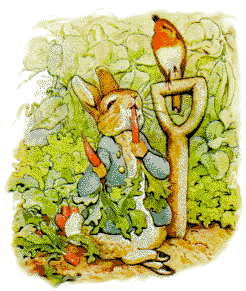 "The only member of the visiting family whose society we like is the boy, Michael, about 5. ... Minto

*

reads him the Peter Rabbit books every evening, and it is a lovely sight. She reads very slowly and he gazes up into her eyes which look enormous through her spectacles -- what a pity she has no grandchildren. Would you believe it, that child had never been read to nor told a story by his mother in his life? Not that he is neglected. He has a whole time Nurse (an insufferable semi-lady scientific woman with a diploma from some Tom-fool nursing college), a hundred patent foods, is spoiled, and far too expensively dressed: but his poor imagination has been left without any natural food at all. I often wonder what the present generation of children will grow up like (how many middle aged men in all generations have said this). They have been treated with so much indulgence yet so little affection, with so much science and so little mother-wit. Not a fairy tale nor a nursery rhyme."
~C.S. Lewis,

The Collected Letters of C.S. Lewis, Volume II

, Letter to Arthur Greeves from The Kilns, (December 7, 1935)
*"Minto" is Mrs. Moore, the mother of his friend
Edward "Paddy" Moore
, whom he took in after Moore's death in WWI.
Feeling nostalgic? Read some Beatrix Potter books online
here
.