Pacifist Politics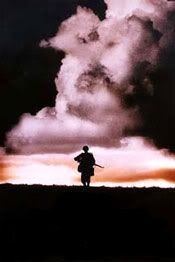 If not the greatest evil, yet war is a great evil. Therefore, we should all like to remove it if we can. But every war leads to another war. The removal of war must therefore be attempted. We must increase by propaganda the number of Pacifists in each nation until it becomes great enough to deter that nation from going to war. This seems to me wild work. Only liberal societies tolerate Pacifists. In the liberal society, the number of Pacifists will either be large enough to cripple the state as a belligerent, or not. If not, you have done nothing. If it is large enough, then you have handed over the state which does tolerate Pacifists to its totalitarian neighbour who does not. Pacifism of this kind is taking the straight road to a world in which there will be no Pacifists.
~C.S. Lewis, "Why I Am Not a Pacifist",
The Weight of Glory
(1949)
__________________________________
On this day:
1918 The Armistice is signed, marking the end of World War I.


Interesting Essay: Finding the Permanent in the Political: C. S. Lewis as a Political Thinker