Steal Past Those Watchful Dragons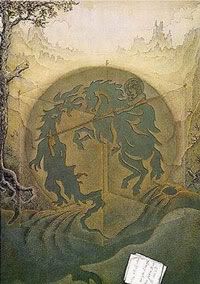 In the Author's mind there bubbles up every now and then the material for a story. For me it invariably begins with mental pictures. This ferment leads to nothing unless it is accompanied with the longing for a Form: verse or prose, short story, novel, play or what not. When these two things click you have the Author's impulse complete. It is now a thing inside him pawing to get out. He longs to see that bubbling stuff pouring into that Form as the housewife longs to see the new jam pouring into the clean jam jar. This nags him all day long and gets in the way of his work and his sleep and his meals. It's like being in love.
[...]
On that side (as Author) I wrote fairy tales because the Fairy Tale seemed the ideal Form for the stuff I had to say.
Then of course the Man in me began to have his turn. I thought I saw how stories of this kind could steal past a certain inhibition which had paralysed much of my own religion in childhood. Why did one find it so hard to feel as one was told one ought to feel about God or about the sufferings of Christ? I thought the chief reason was that one was told one ought to. An obligation to feel can freeze feelings. And reverence itself did harm. The whole subject was associated with lowered voices; almost as if it were something medical. But supposing that by casting all these things into an imaginary world, stripping them of their stained-glass and Sunday School associations, one could make them for the first time appear in their real potency? Could one not thus steal past those watchful dragons?
~C.S. Lewis, "Sometimes Fairy Stories May Say Best What's To Be Said" (1st pub. Nov 1956),

Of Other Worlds

(1966)
____________________
Cool Link of the Day:
Belmont University Conference on C. S. Lewis: "Past Watchful Dragons"
, Nov. 3 - 5, 2005