The Fairy Tale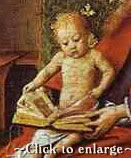 Even the fairy tale
proprement dit*
was not originally intended for children; it was told and enjoyed in (of all places) the court of Louis XIV. As Professor Tolkien has pointed out, it gravitated to the nursery when it went out of fashion among the grown-ups, just as old-fashioned furniture gravitated to the nursery. Even if all children and no adults now liked the marvellous--and neither is the case--we ought not to say that the peculiarity of children lies in their liking it. The peculiarity is that they
still
like it, even in the twentieth century.
It does not seem to me useful to say, "What delighted the infancy of the species naturally still delights the infancy of the individual.' This involves a parallel between the individual and species which we are in no position to draw. What age is Man? Is the race now in its childhood, its maturity, or its dotage? As we don't know at all exactly when it began, and have no notion when it will end, this seems a nonsense question. And who knows if it will ever be mature? Man may be killed in infancy.
Surely it would be less arrogant, and truer to the evidence, to say that the peculiarity of child readers is that they are not peculiar. ...for children read only to enjoy.
~C.S. Lewis,
Of Other Worlds
, "On Juvenile Tastes", (1st pub. Nov 1958)
*"itself"
_________________________
On this day:
1926 (May 11) Lewis meets J. R. R. Tolkien
1947 (May 12)
Miracles
is published by Geoffrey Bles/The Centenary Press, London