Psyche's Palace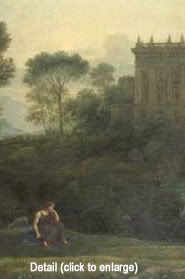 "Psyche," said I, leaping up, "I can't bear this any longer. You have told me so many wonders. If this is all true, I've been wrong all my life. Everything has to be begun over again. Psyche, it is true? You're not playing a game with me? Show me. Show me your palace."
"Of course I will," she said, rising. "Let us go in. And don't be afraid whatever you see or hear."
"Is it far?" said I.
She gave me a quick, astonished look. "Far to where?" she said.
"To the palace, to this god's House."
You have seen a lost child in a crowd run up to a woman whom it takes for its mother, and how the woman turns round and shows the face of a stranger, and then the look in the child's eyes, silent a moment before it begins to cry. Psyche's face was like that; checked, blank; happiest assurance suddenly dashed all to pieces.
"Orual," she said, beginning to tremble, "what do you mean?"
I too became frightened, though I had yet no notion of the truth. "Mean?" said I. "Where is the palace? How far have we to go to reach it?"
She gave one loud cry. Then, with white face, staring hard into my eyes, she said, "But this is it, Orual! It is here! You are standing on the stairs of the great gate."
~C.S. Lewis,
Till We Have Faces
(1956)
_________________________
On this day:
1955

The Magician's Nephew

is published by the Bodley Head, London.