Diabolical Letters
I was often asked or advised to add to the original Letters, but for many years I felt not the least inclination to do it. Though I had never written anything more easily, I never wrote with less enjoyment. The ease came, no doubt, from the fact that the device of diabolical letters, once you have thought of it, exploits itself spontaneously.
~C.S. Lewis,
Preface to The Screwtape Letters and Screwtape Proposes a Toast
(1961)
If the book were praised in Jack's presence, he would often say that writing it had given him little pleasure and had, in fact, been painful. He thought it was bad for his character to imagine himself a devil, thinking about how to tempt and pervert those around him.
~George Sayer,
Jack: A Life of C. S. Lewis
, (1988)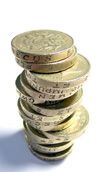 The first of the Screwtape Letters was published in The Guardian on May 2, 1941. Thirty more letters followed, one each week. Lewis was paid £2 per letter , but he would not accept the money. Instead, he sent the editor of the Guardian a list of widows and orphans to whom the £62 was to be paid. He did the same with the fees the BBC paid for the 'Mere Christianity' broadcasts, and those The Guardian paid for the weekly instalments of
The Great Divorce
in 1944 - 5.
It never occurred to Lewis that he would have to pay tax on these royalties, and he soon found himself with a huge tax bill. Before things got out of hand Owen Barfield found a solution to the problem. After paying off Lewis's taxes, he set up a charitable trust into which Lewis thereafter directed all his royalties. They named the trust 'Agapony', or 'love + money', and from then on until his marriage, Lewis made anonymous gifts of two-thirds of his income.
~from
The Collected Letters of C.S. Lewis: Volume II
___________________________
On this day:

1937 C. S. Lewis published his poem "Coronation March" in

Oxford Magazine

.