Baron Biscuit
A letter to his godchild, Sarah, during WWII:


"My dear Sarah—Thank you very much for sending me the pictures of the Fairy King and Queen at tea (or is it breakfast?) in their palace and all the cats (what a lot of cats they have!
And a separate table for them.
How sensible!).
I liked them very much.
It must be nice for them (I mean the King and Queen) having so many currants in their cake.
We don't get many now, do we?
I am getting to be quite good friends with an old Rabbit who lives in the Wood at Magdalen [College].
I pick leaves off the trees for him because he can't reach up to the branches and he eats them out of my hand.
One day he stood up on his hind legs and put his front paws against me, he was so greedy.
I wrote this about it;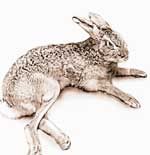 A funny old man had a habit

Of giving a leaf to a rabbit.

At first it was shy

But then, by and by,

It got rude and would stand up to grab it.


But it's a very nice Rabbit all the same; I call him "Baron Biscuit".
~C.S. Lewis, Letters to Children, Letter to Sarah, July 16, 1944