A Glimpse of The Unfallen World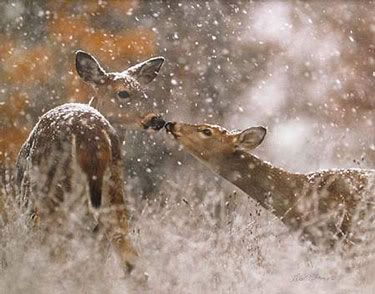 "First Snow" by Carl Sams II and Jean Stoick
.
..I said that everything a man does to a beast is
either

a lawful exercise

or

a sacrilegious abuse of an authority by divine right. I didn't say which of the things we now see men doing to beasts fall into which class. The robin in a cage and the over-fed Peke are both, to me, instances of the abuse of man's authority, tho' in different ways. I never denied that the

abuse

was common: that is why we have to make laws (and ought to make a good many more) for the protection of animals.

I
do
know what you mean by the sudden ravishing glimpse of animal life in itself, its wildness--to meet a squirrel in a wood or even a hedgehog in the garden makes me happy. But that is because it is, being
partly
exempt from the Fall, a symbol and reminder of the unfallen world we long for.
~C.S. Lewis,
The Collected Letters of C.S. Lewis: Volume II
, Letter to Mrs. Stuart Moore (Jan 1941)
_________________________________
On this day:
1954 Lewis completes his last tutorial at Magdalen College, Oxford, after accepting a chair at Cambridge
Cool Link of the Day:
The Wildlife Photography of Carl Sams II and Jean Stoick