Is It Wrong to Want Heaven?
We are very shy nowadays of even mentioning heaven. We are afraid of the jeer about 'pie in the sky', and of being told that we are trying to 'escape' from the duty of making a happy world here and now into dreams of a happy world elsewhere. But either there is 'pie in the sky' or there is not. If there is not, then Christianity is false, for this doctrine is woven into its whole fabric. If there is, then this truth, like any other, must be faced, whether it is useful at politicial meetings or not. Again, we are afraid that heaven is a bribe, and that if we make it our goal we shall no longer be disinterested. It is not so. Heaven offers nothing that a mercenary soul can desire. It is safe to tell the pure in heart that they shall see God, for only the pure in heart want to. There are rewards that do not sully motives. A man's love for a woman is not mercenary because he wants to marry her, nor his love for poetry mercenary because he wants to read it, nor his love of exercise less disinterested because he wants to run and leap and walk. Love, by definition, seeks to enjoy its object.
~C.S. Lewis,

The Problem of Pain

(1940)
__________________________________
On this day:
1963 Lewis dies at 5:30 p.m. at the Kilns, one week short of his sixty-fifth birthday. He is buried in the yard of Holy Trinity Church in Headington Quarry, Oxford. Warren Lewis chose the inscription for his brother's gravestone to express his own grief. He identifies its source and special family meaning: "When our mother died on August 23, 1908, there was a Shakespearean calendar hanging on the wall of the room where she died, and my father preserved for the rest of his life the leaf for that day, with its quotation: 'Men must endure their going hence.'"
Jack (and Warnie's grave) at Headington Church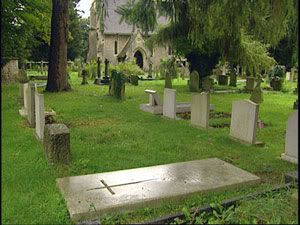 Photograph courtesy of Roger R.