John sees the Island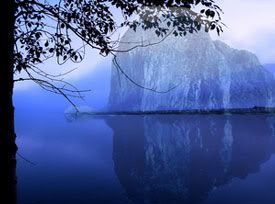 I saw where they came down to the white beaches of a bay of the sea, the western end of the world, a place very ancient, folded many miles deep in the silence of forests; a place, in some sort, lying rather at the world's beginning, as though men were born travelling away from it. It was early in the morning when they came there and heard the sound of the waves; and looking across the sea--at that hour almost colourless--all those thousands became still. And what the others saw I do not know: but John saw the Island. And the morning wind, blowing offshore from it, brought the sweet smell of its orchards to them, but rarified and made faint with the thinness and purity of early air, and mixed with a little sharpness of the sea. But for John, because so many thousands looked at it with him, the pain and the longing were changed and all unlike what they had been of old; for humility was mixed with their wildness, and the sweetness came not with pride and with the lonely dreams of poets nor with the glamour of a secret, but with the homespun truth of folktales, and with the sadness of graves and freshness as of earth in the morning.
~C.S. Lewis,
The Pilgrim's Regress: An Allegorical Apology for Christianity, Reason, and Romanticism
(1944)
______________________________________
Cool link of the day:
Antarctic Macquarie Island Station Live WebCam
Another Cool Link:
EarthView
(a satellite image of the earth showing day and night regions in real time, clickable to zoom).