Screwtape Begins His Toast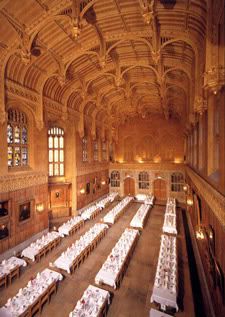 The scene is in Hell at the annual dinner of the Tempters' Training College for young devils. The principal, Dr. Slubgob, has just proposed the health of the guests. Screwtape, a very experienced devil, who is the guest of honour, rises to reply:


Mr. Principal, your Imminence, your Disgraces, my Thorns, Shadies, and Gentledevils:
It is customary on these occasions for the speaker to address himself chiefly to those among you who have just graduated and who will very soon be posted to official Tempterships on Earth. It is a custom I willingly obey. I well remember with what trepidation I awaited my own first appointment. I hope, and believe, that each one of you has the same uneasiness tonight. Your career is before you. Hell expects and demands that it should be -- as mine was -- one of unbroken success. If it is not, you know what awaits you.
I have no wish to reduce the wholesome and realistic element of terror, the unremitting anxiety, which must act as the lash and spur to your endeavours. How often you will envy the humans their faculty of sleep! Yet at the same time I would wish to put before you a moderately encouraging view of the strategical situation as a whole.
Your dreaded Principal has included in a speech full of points something like an apology for the banquet which he has set before us. Well, gentledevils, no one blames him. But it would be in vain to deny that the human souls on whose anguish we have been feasting tonight were of pretty poor quality. Not all the most skillful cookery of our tormentors could make them better than insipid.

Oh, to get one's teeth again into a Farinata, a Henry VIII, or even a Hitler! There was real crackling there; something to crunch; a rage, an egotism, a cruelty only just less robust than our own. It put up a delicious resistance to being devoured. It warmed your inwards when you'd got it down.
~C.S. Lewis, The Screwtape Letters, (1961)
____________________________

Links of the day:

Little-known works by C.S. Lewis

A guided tour through Dante's Inferno
(requires flashplayer)