To the Kids About Narnia
Dear Fifth Graders,
I am so glad you liked the Narnian books and it was very kind of you to write and tell me. There are to be 7 of them altogether and you are already one behind. No. 4,
The Silver Chair
, is already out.
You are mistaken when you think that everything in the books "represents" something in this world. Things do that in
The Pilgrim's Progress
but I'm not writing in that way. I did not say to myself "Let us represent Jesus as He really is in our world by a Lion in Narnia": I said "Let us
suppose
that there were a land like Narnia and that the Son of God, as He became a Man in our world, became a Lion there, and then imagine what would happen." If you think about it, you will see that it is quite a different thing. So the answer to your first two questions is that Reepicheep and Nick-i-brick don't, in that sense, represent anyone. But of course anyone in our world who devotes his whole life to seeking Heaven will be like Reepicheep, and anyone who wants some worldy thing so badly that he is ready to use wicked means to get it will be likely to behave like Nick-i-brick. Yes, Reepicheep did get to Aslan's country. And Caspian did return safely: it says so on the last page of
The "Dawn Treader"
. Eustace did get back to Narnia, as you will find when you read
The Silver Chair
. As for who reigns in Narnia to-day, you won't know till you have had the seventh and last book.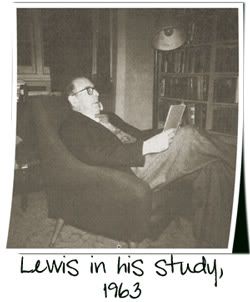 I'm tall, fat, rather bald, red-faced, double-chinned, black-haired, have a deep voice, and wear glasses for reading.
The only way for
us
to get to Aslan's country is through death, as far as I know: perhaps some very good people get just a tiny glimpse before then.
Best love to you all. When you say your prayers sometimes ask God to bless me.
Yours ever,
C.S. Lewis
Letters to Children
, Letter to 5th grade class in Maryland, May 29, 1954
_____________________________________
Cool Links of the day:
An Interview with Chris Van Alls
bur
g
, Author of The Polar Express
The Polar Express Movie Flashsite