Another Selection from Dymer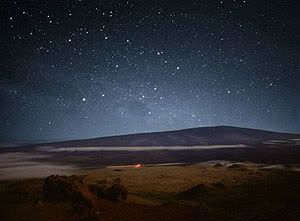 Meanwhile the earth swung round in hollow night.
Souls without number in all nations slept
Snug on her back, safe speeding towards the light;
Hours tolled, and in damp woods the night beast crept;
And over the long seas the watch was kept
In black ships, twinkling onward, green and red:
Always the ordered stars moved overhead.
And no one knew that Dymer in his scales
Had weighed all these and found them nothing worth.
Indifferently the dawn that never fails
Troubled the east of night with gradual birth,
Whispering a change of colours on cold earth,
And a bird woke, then two. The sunlight ran
Along the hills and yellow day began.
But stagnant gloom clung in the valley yet;
Hills crowded out a third part of the sky,
Black-looking, and the boulders dripped with wet:
No bird sang. Dymer, shivering, heaved a sigh
And yawned and said: 'It's cruel work to die
Of hunger; and again, with cloudy breath
Blown between chattering teeth, 'It's a bad death."
~C.S. Lewis,
Narrative Poems
(1969), "Dymer" (Canto V, Stanzas 16 - 18)
________________________________
On this day:
1944 Lewis delivers the first of seven talks on "Beyond Personality" over the BBC. These talks later appear as Book 4 of Mere Christianity.