The Tao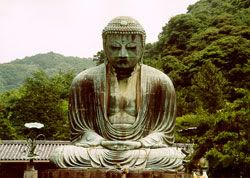 The Chinese also speak of a great thing (the greatest thing) called the Tao. It is the reality beyond all predicates, the abyss that was before the Creator Himself. It is Nature, it is the Way, the Road. It is the Way in which the universe goes on, the Way in which things everlastingly emerge, stilly and tranquilly, into space and time. It is also the Way which every man should tread in imitation of that cosmic and supercosmic progression, conforming all activities to that great exemplar. 'In ritual', say the Analects, 'it is harmony with Nature that is prized.' The ancient Jews likewise praise the Law as being 'true'.
This conception in all its forms, Platonic, Aristotelian, Stoic, Christian, and Oriental alike, I shall henceforth refer to for brevity simply as 'the Tao'. Some of the accounts of it which I have quoted will seem, perhaps, to many of you merely quaint or even magical. But what is common to them all is something we cannot neglect. It is the doctrine of objective value, the belief that certain attitudes are really true, and others really false, to the kind of thing the universe is and the kind of things we are. Those who know the Tao can hold that to call children delightful or old men venerable is not simply to record a psychological fact about our own parental or filial emotions at the moment, but to recognize a quality which demands a certain response from us whether we make it or not. I myself do not enjoy the society of small children: because I speak from within the Tao I recognize this as a defect in myself—just as a man may have to recognize that he is tone deaf or colour blind. And because our approvals and disapprovals are thus recognitions of objective value or responses to an objective order, therefore emotional states can be in harmony with reason (when we feel liking for what ought to be approved) or out of harmony with reason (when we perceive that liking is due but cannot feel it). No emotion is, in itself, a judgement; in that sense all emotions and sentiments are alogical. But they can be reasonable or unreasonable as they conform to Reason or fail to conform. The heart never takes the place of the head: but it can, and should, obey it.
~C.S. Lewis, The Abolition of Man (1943)

__________________________
On this day:
1930 Warren Lewis writes that he was spiritually stirred by the sight of the Daibutsu Buddha in Kamakura, Japan. In later years, he said this event gradually led him back to Christianity.
Poetry Link of the day: Rudyard Kipling's
"Budda at Kamakura"