A White City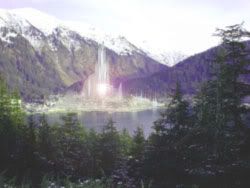 And under the pass, clear seen against the purple foothills there stood a great, white city. [His] heart thrilled as he looked upon those towers and battlemented walls and glittering spires a great way off: for he knew it was . . . the greatest town of earth, the city of the King. And in the haven of it--for it ran down to the bay--the great ships of the merchants and the sea-kings rode at anchor, and he saw the sun flashing upon their dragon-prows.
(Chapter XV)
- - - -
And he saw how stark and grim and baleful they lay in the pale moonlight so that perforce there came flooding on him a host of memories of all the old tales concerning them--of hideous passes among them, of wizard cities and evil places in their gloomy woods and of knights' adventurings there and in the unheard of lands beyond, away to the North. And as he thought thereon, the dull, sober world in which he lived waxed ever more and more irksome to him: for he too had his dreams, and thought that surely he should do great things in the world, and fight and love as mightily as the heroes of old song. But now it seemed that his life was but a short space, a thing little worth: that he should marry and live at ease, and beget sons to live also at ease, as others did before him and at the latter end to wax old and die, with all his dreams yet hidden. . . But even as thus he pondered, those dark moonlit hills with all their wonders were weaving a spell about him: so anon a new thought, as it had been a gust of sweet, cold morning-wind, smote upon the dungeon of his soul, and he almost laughed for joy.
~ C.S. Lewis, "Quest of Bleheris", Chapter III, Manuscript in the Bodleian Library, Oxford (MS. Eng. lett. c. 220/5 fols. 5-43), unpublished, written in 1916, when Lewis was eighteen.
____________________________
Scholarly link of the day:
"The Dungeon of his Soul": Lewis's Unfinished "Quest of Bleheris"