Ares and Aphrodite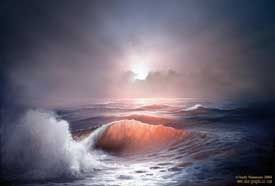 "Ocean" by Andy Simmons
The two white creatures were sexless. But he of Malacandra was masculine (not male); she of Perelandra was feminine (not female). Malacandra seemed to him to have the look of one standing armed, at the ramparts of his own remote archaic world, in ceaseless vigilance, his eyes ever roaming the earth-ward horizon whence his danger came long ago. "A sailor's look," Ransom once said to me; "you know . . . eyes that are impregnated with distance."
But the eyes of Perelandra opened, as it were, inward, as if they were the curtained gateway to a world of waves and murmurings and wandering airs, of life that rocked in winds and splashed on mossy stones and descended as the dew and arose sunward in thin-spun delicacy of mist. On Mars the very forests are of stone; in Venus the lands swim. For now he thought of them no more as Malacandra and Perelandra. He called them by their Tellurian names. With deep wonder he thought to himself, "My eyes have seen Mars and Venus. I have seen Ares and Aphrodite."
~C.S. Lewis, Perelandra(1944), Chapter 16.

View more art by this artist at ANS graphics