But What Do You Want With a Tail?
For at that moment a curious little procession was approaching - eleven Mice, six of whom carried between them something on a litter made of branches, but the litter was no bigger than a large atlas. No one has ever seen mice more woebegone than these. They were plastered with mud some with blood too - and their ears were down and their whiskers drooped and their tails dragged in the grass, and their leader piped on his slender pipe a melancholy tune. On the litter lay what seemed little better than a damp heap of fur; all that was left of Reepicheep. He was still breathing, but more dead than alive, gashed with innumerable wounds, one paw crushed, and, where his tail had been, a bandaged stump.
"Now, Lucy," said Aslan.
Lucy had her diamond bottle out in a moment. Though only a drop was needed on each of Reepicheep's wounds, the wounds were so many that there was a long and anxious silence before she had finished and the Master Mouse sprang from the litter. His hand went at once to his sword hilt, with the other he twirled his whiskers. He bowed.
"Hail, Aslan!" came his shrill voice. "I have the honour -" But then he suddenly stopped.
The fact was that he still had no tail - whether that Lucy had forgotten it or that her cordial, though it could heal wounds, could not make things grow again. Reepicheep became aware of his loss as he made his bow; perhaps it altered something in his balance. He looked over his right shoulder. Failing to see his tail, he strained his neck further till he had to turn his shoulders and his whole body followed. But by that time his hind-quarters had turned too and were out of sight. Then he strained his neck looking over his shoulder again, with the same result. Only after he had turned completely round three times did he realize the dreadful truth.
"I am confounded," said Reepicheep to Aslan. "I am completely out of countenance. I must crave your indulgence for appearing in this unseemly fashion."
"It becomes you very well, Small One," said Aslan. "All the same," replied Reepicheep, "if anything could be done... Perhaps her Majesty?" and here he bowed to Lucy.
"But what do you want with a tail?" asked Aslan.
"Sir," said the Mouse, "I can eat and sleep and die for my King without one. But a tail is the honour and glory of a Mouse."
"I have sometimes wondered, friend," said Aslan, "whether you do not think too much about your honour."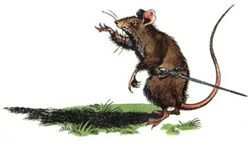 "Highest of all High Kings," said Reepicheep, "permit me to remind you that a very small size has been bestowed on us Mice, and if we did not guard our dignity, some (who weigh worth by inches) would allow themselves very unsuitable pleasantries at our expense. That is why I have been at some pains to make it known that no one who does not wish to feel this sword as near his heart as I can reach shall talk in my presence about Traps or Toasted Cheese or Candles: no, Sir - not the tallest fool in Narnia!" Here he glared very fiercely up at Wimbleweather, but the Giant, who was always a stage behind everyone else, had not yet discovered what was being talked about down at his feet, and so missed the point.
"Why have your followers all drawn their swords, may I ask?" said Aslan.
"May it please your High Majesty," said the second Mouse, whose name was Peepiceek, "we are all waiting to cut off our own tails if our Chief must go without his. We will not bear the shame of wearing an honour which is denied to the High Mouse."
"Ah!" roared Aslan. "You have conquered me. You have great hearts. Not for the sake of your dignity, Reepicheep, but for the love that is between you and your people, and still more for the kindness your people showed me long ago when you ate away the cords that bound me on the Stone Table (and it was then, though you have long forgotten it, that you began to be Talking Mice), you shall have your tail again."
Before Aslan had finished speaking the new tail was in its place.
~C.S. Lewis,

Prince Caspian

(1952)
_____________________
On this day:
1944 Lewis delivers "The Inner Ring" as the annual "Commemoration Oration" given at King's College, University of London.
Cool link:
WETA's Richard Taylor talks about The Lion, The Witch and the Wardrobe.
(quicktime movie)